Climb Squamish!
Get your Squamish Rocks Shirt.  I  have a limited number on sale.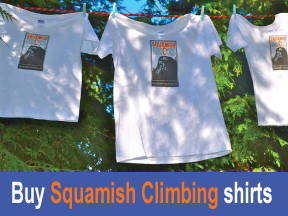 SquamishClimbing.com is the place to go for rock climbing news and info in the Squamish Area including, Whistler Climbing, Squamish Climbing, Sea2Sky and Hwy 99 climbing as well as North Vancouver climbing, the North Shore and Deep Cove climbing areas.
SquamishClimbing.com features free topos of climbing Squamish as well as photos, information guides and the latest climb Squamish climbing news and more. Explore the different Squamish areas sport climbing crags as well as trade climbing and Squamish bouldering information.
The site is maintained weekly and relies solely on the support of the Squamish Climbing community as well as the advertisers that help fund site.